SmartGuard Clear Multi-Surface Spray Sealer
Maintaining your deck, fence or concrete patio doesn't have to cost days of effort. Olympic has a smarter solution. With Olympic SmartGuard Clear Sealer you can clean, protect and enjoy your deck in less than a day. One pouch of SmartGuard gets you the same protection as two traditional cans of waterproofing sealer. SmartGuard protects a wide variety of surfaces including wood, brick, concrete, and composite decking.*
Patent-pending formula designed for easy spray application with no back brushing
Pour pouch in deck sprayer, add 2 gal. of water and spray on
Dries in 1 hour
Can be applied immediately after cleaning or rain
Strong durability and waterproofing protection
1 pouch covers up to 500 sq. ft.
Soap and water cleanup
Read more
Select a color above to buy online
Product Features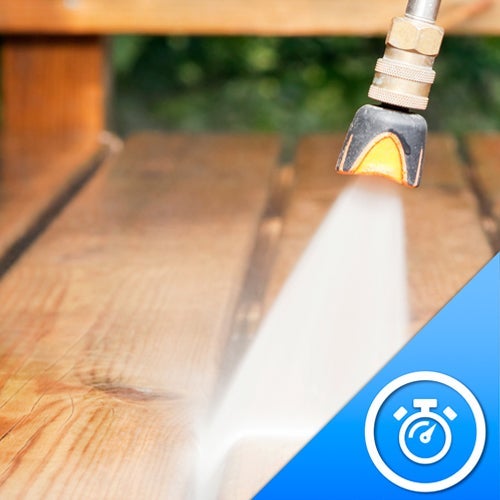 Finish Your Project Fast
Olympic® SmartGuard dries in only 1 hour, meaning you can clean, seal, and use your deck in the same day.
Waterproofing Protection
Olympic® SmartGuard protects your deck from water damage, and protects against mold, mildew, and algae growth.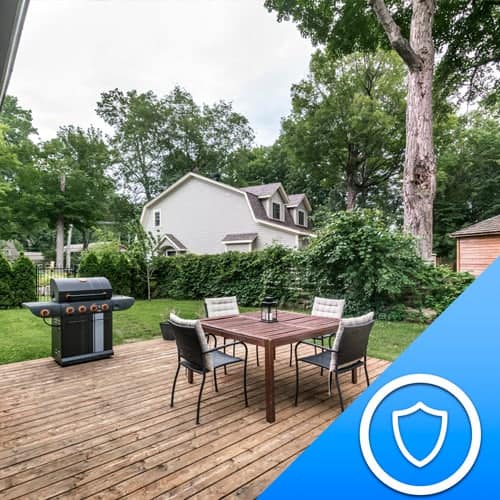 Protecting your deck has never been easier
Olympic® SmartGuard is easy to apply. Just add to water and spray the surface. Easily achieved protection.
Stain in 4 Easy Steps
Step 1)
How much stain do I need?
Use our
Stain Calculator
. The size of your project will determine how much stain is needed. Remember, solid color stains require two coats.
Step 2)
Clean your surface
Sweep debris from your deck, then use Olympic Premium Deck Cleaner to wash away dirt and stains caused by mildew. See these
How-To articles
for other staining projects.
Step 3)
Prep your surface
Tape off the surfaces you don't want stained. Avoid staining in direct sunlight so the stain does not dry unevenly.
Step 4)
Apply the stain
For even coverage, apply the stain to one board at a time. For best results, backbrush into the wood surface.
Refer to the Product Label, Technical Data Sheet (TDS) or Safety Data Sheet (SDS) for safety and detailed application instructions.
Stain Transparency Guide
Clear
Clear finish allows your wood to weather and gray naturally. Least protection, most woodgrain.
Transparent / Toner
Slight hint of color that highlights the wood grain. Less protection, more wood grain.
Semi-Transparent
Rich color that allows wood grain and texture to show. More protection, less wood grain.
Semi-Solid
Same rich color as semi-transparent, but hides more wood grain. More protection, least wood grain.
Solid
Fully opaque color covers the woodgrain and accentuates the natural texture. Most protection, no woodgrain.
Resurfacer
Creates a new, safe, durable surface on worn or weathered wood or concrete.